In the heart of South Texas, a group of resilient community members came together with a common goal: to protect their homes, their families, and their environment from the adverse effects of Methane Gas (LNG) exports. Their stories are a testament to the power of grassroots organizing, advocacy, and the determination of individuals to bring about change. Join us as we delve into the dangers of methane gas exports and the inspiring journey of five Chispa Texas community members who lobbied their members of Congress to end LNG exports.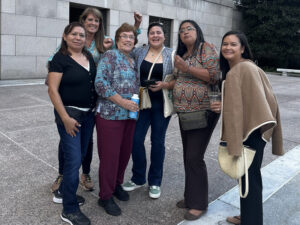 What's Happening in Texas 
LNG stands for Liquefied Natural Gas, but there's nothing natural about it. It's gas primarily made up of methane, one of the more potent greenhouse gasses. As methane gas (LNG) exports expand, low-income communities of color are disproportionately affected, their environmental concerns and impacts continue to grow. Methane Gas (LNG) facilities release emissions and pollutants, affecting air quality in surrounding neighborhoods and posing health risks to communities across Texas and the Coastal Bend. The LNG facilities also require large amounts of water for cooling and safety measures, affecting local water sources and ecosystems. Furthermore, the construction and operation of LNG facilities produce noise and light pollution, disrupting nearby residents' quality of life and mental health. And, while communities in Texas are paying a steep price — their health and wellbeing — corporate polluters, like Cheniere in Gregory, are extracting massive profits.
The LNG Industry's Impact on the People and Planet
LNG exports have surged in recent years, driven by the promise of economic growth and energy independence. However, the harsh reality is that this industry has brought many problems to South Texans, particularly low-income communities and communities of color.
Air Pollution: LNG facilities emit significant pollutants into the air, including volatile organic compounds and nitrogen oxides, which contribute to poor air quality and can exacerbate respiratory problems. For communities already burdened by pollution, this is a grave concern.
Extreme Heat: The LNG industry's infrastructure, including massive storage tanks and pipelines, absorbs and radiates heat, creating localized "heat islands." These extreme heat pockets disproportionately affect low-income communities and communities of color, increasing the risk of heat-related illnesses and discomfort during scorching Texas summers.
Disproportionate Impact on low-income communities and communities of color: Low-income communities and communities of color often bear the brunt of industrial development. The expansion of LNG facilities has further deepened these disparities, as they tend to be located near these communities, exacerbating existing environmental and health inequalities.
The Voices of Change
Community members from Chispa, Texas, refused to remain silent despite these injustices. They recognized the urgency of their situation and decided to take matters into their own hands. Below, Chispa Texas community leaders share their experiences and why they are lobbying.
Carmen Hernandez: "Towns are dying around us, and it needs to stop. We are here to make that statement so the continuance of expansion stops. The American people, us citizens in these small towns, want to keep on living for as long as we can. The future of our children is at stake"
(Carmen Hernandez)
Angelica Cuevas from Gregory, Texas: "I'm interested in taking care of my town, the atmosphere, the knowledge of what it takes to better our lives in such a short time because there is so much to do and so much to say, but we don't know how to."
Gwendolyn Jones from Freeport, Texas: "I want people to understand, when we have information, we have to share it with everyone because that is where the power is at. And that's going to make the biggest difference in changing the nightmare of fossil fuels and climate change"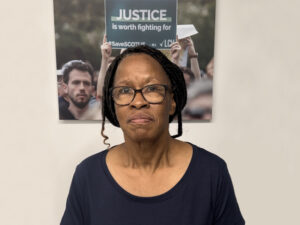 (Gwendolyn Jones )
Their Journey to Congress
For many community members, this was their first time on a plane. It was a whole new experience from the travel to the destination; it was all new, different, and slightly overwhelming. These determined community members recognized that for change to reflect their community's needs, they needed to travel all the way to Washington, D.C., to raise the concerns they've experienced in South Texas. They lobbied their congressional representatives, sharing their stories and demanding action. They engaged in open dialogues with their elected officials to ensure they shed light on these stories in the rooms of Capitol Hill.
(Chispa Texas members lobbying Rep. Crockett)
This is only the beginning 
The Gregory community's efforts should be noticed. Together with allies and concerned citizens, they urged their congressional representatives to take action. We need stricter regulations on LNG exports and to prioritize environmental justice in decision-making processes. The story of these five community members from Chispa, Texas, serves as a powerful reminder that individuals can make a difference when they come together for a common cause. Their resilience, dedication, and unwavering commitment to protecting their communities from the harmful effects of LNG exports are a testament to the power of grassroots activism. As we look to the future, we must continue supporting and amplifying the voices of those most affected by environmental injustices. Together, we can work towards a more equitable and sustainable future for all.