This Earth Day, join us in celebrating the accomplishments of each of our Chispa programs.We want to highlight front-line communities, the driving force in the climate movement. Low income and communities of color bear the brunt of climate burdens, and it is often these communities that are fighting the hardest for environmental justice.
In 2011, Chispa started as a project of the League of Conservation Voters, focused on environmental issues in Latinx communities in Colorado, Nevada, and New Mexico. Since then, Chispa has flourished, becoming a major voice for climate justice with a national team and six state programs. Our state programs are on the frontlines of the climate movement, bringing communities together to call on local representatives and demand bold climate action. Our teams in Arizona, Colorado, Florida, Texas, Nevada and Maryland continue to advocate for environmental protections for low income and communities of color within their states. Read more to learn about the growth of each of our state programs and the amazing work that they do today.
COLORADO
Since 2011, Protegete has worked closely with Chispa LCV to engage Latinx communities around the state at the grassroots level. One of Protegete's first projects involved partnering with Project New America to poll Latinxs on their attitudes towards environmental issues, which confirmed that Latinx communities are interested in and concerned about environmental issues. Protegete then launched a pilot project that successfully mobilized over 10,000 Latinxs to take action on climate change. A key takeaway was that Latinx communities are interested in environmental issues and will take bold action –if asked. Since then, Protegete has organized around voter registration, membership building, and clean air, most notably in January 2017 when they organized students to testify before the Colorado Air Quality Control Commission urging them to pass Low Emission Vehicle Standards.
ARIZONA
Soon after launching in 2013, Chispa Arizona turned their focus to clean energy advocacy, and in 2017 they joined Chispa LCV's Clean Buses for Healthy Niños campaign, which continues to bring Chispa's state programs together and has garnered press coverage, rallied elected officials and school district leaders, recruited Arizona State Legislature members, and delivered petitions on behalf of over 16,000 Arizonans to the State Capitol. These community organizing efforts led to the state's 2018 commitment to invest in new school buses in districts with a majority of students on free or reduced lunch. Now, Chispa Arizona has pivoted to working with local school districts to apply for funding and prioritize electric school buses. Chispa Arizona has since also grown its democracy program, focusing on reaching low to moderate propensity and first-time voters and elevating candidates of color fighting for public lands, clean air, water and a more just and reflective democracy that rejects donations from corporate utilities. They knocked on over 60,000 doors, made more than 400,000 calls, and registered nearly 29,000 new voters in 2018. Chispa Arizona continues to center community voices in all of their work–see some of their storytelling projects below.
High Schoolers join Chispa Arizona's Fight For Clean Air
14 Year Old Chispa Arizona Volunteer Gives Testimony at EPA Hearing
MARYLAND
Chispa expanded in 2014 creating the Chispa Maryland program. This program quickly began to make waves in the state, co-founding the Festival del Rio Anacostia to engage the Latino Community. Organizers from Chispa Maryland also marched and addressed crowds at the People's Climate March in Washington DC. Today, Chispa Maryland continues this work, having recently celebrated the passage of the Climate Solutions Now Bill (SB528) in both the state House and Senate. Chispa Maryland played a key role in organizing community members on the ground to advocate for this bill, which will create cleaner air for Maryland communities and is one of the strongest climate bills in the country.
NEVADA
In 2016, Chispa Nevada launched and began organizing community surveys, conducting organizer trainings, and registering over 6,000 voters throughout Hispanic Heritage Month. Chispa NV celebrated their wins with the RenewNV coalition, which helped to pass nine clean energy bills that included energy efficiency programs, electric vehicle incentives, community solar access, and a higher Renewable Portfolio Standard. During the 2018 elections, Chispa Nevada made over 39,000 calls urging Latinos to get out and vote and successfully elected champions for clean water, air and energy up and down the ticket. Most notably, Steve Sisolak won the gubernatorial election, becoming the first Democrat to be elected Governor of Nevada since 1994. Chispa Nevada continued its democracy work in 2020, when it hosted its first-ever bilingual caucus training to help Nevadans push 2020 presidential primary candidates to prioritize climate justice.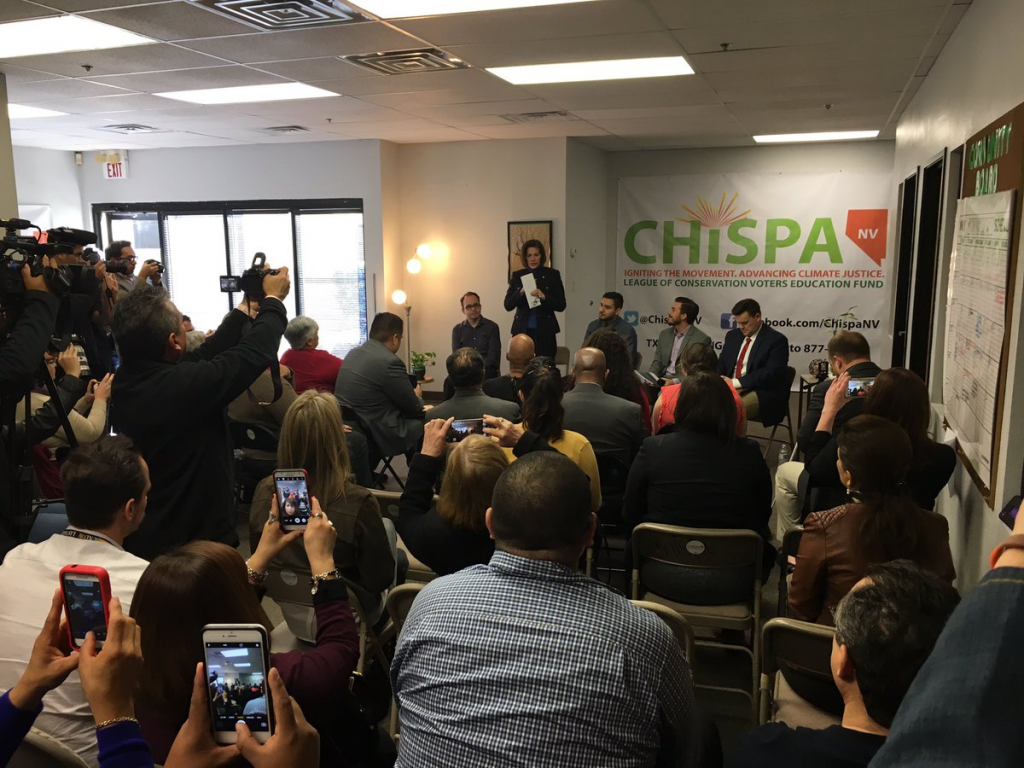 (Launch of Chispa NV's environmental radio show, Raices)
WATCH: Community Power Nevada: Unidxs En Acción (United In Action)
FLORIDA
In partnership with the Florida Conservation Voters, Chispa launched its Chispa Florida program in 2020. The Florida Program has launched a variety of initiatives such as the"Banco De Mujeres," which provides free, eco-friendly menstrual products and diapers for children and adults. Additionally, the Chispa Florida's Green Program promotes the development of sustainable communities by celebrating the Kissimmee Green, Orlando Green, and Tampa Green events. Through programs like these and others, our team in Florida is working to bring electric school buses to Floridian communities, which will result in a cleaner, greener, and safer future for our communities.
TEXAS
After two years of planning, ChispaTexas officially launched in Corpus Christi in March of 2022. Texas has a deep rooted history in the environmental movement, as it was here that the environmental justice movement really began. It was in Houston Texas, that Dr. Robert Bullard, known as the "father of environmental justice," began researching the disproportionate impacts of pollution on communities of color. Chispa Texas' work will contribute to this movement in the state. The new program is already creating an impact, starting with program director Elida Castillo giving testimony at the EPA's Clean Trucks Rule Hearing. Chispa Texas will be hosting an Earth Day event to bring community members together and educate them on the importance of climate action.
This is a small glimpse into the amazing work done in all the different Chispa states. We invite you to join us at our next event! Join our community and stay updated by following us on social media: