Children are always asked questions about their future — what they want to be when they get older, where they want to live, how many pets they want, and if they want to start a family one day. With the climate crisis accelerating at a faster rate every day, we can't help but wonder: will our actions create a world where they can fully experience their hopes and dreams?
What will you do to protect our planet? Will our future generations live the life they deserve? We must question ourselves more as adults. What will we do to ensure our kids and future generations have a sustainable planet? What will we do so that a child today can thrive in school with cleaner air and water? What will we do to ensure they can live in a beautiful state like Florida surrounded by the beach and their family?
What will we do to protect our planet?
What will you do?
Chispa's State Leadership
Since 2016, Chispa has led the fight for electric school buses to help our kids and communities breathe cleaner air — from urging governors to use the Volkswagen settlement money to prioritize the health of our children and invest in electric school buses, to working directly with school districts around the country to ensure they are applying for the funds necessary to help electrify school fleets.
This has been a grassroots effort since the beginning, where people have exercised their power and grown into leaders in their communities. Our members have spoken out during local legislation hearings to ensure policies are put in place for both funding and building out the infrastructure for electric school bus fleets that benefit their children and communities. Our members have led the fight for a clean ride for kids, and they are speaking up and telling our decision makers that we need a clean energy future that prioritizes healthy, pollution-free communities for people of color.
Throughout the years we have successfully gotten funding to deploy electric school buses in Connecticut, New York, Arizona, and soon in Nevada.
In 2021, Chispa Arizona Organizer Teo Argueta worked with Cartwright Elementary School District mothers and other community members to push through the passage of a school bond that would help underwrite the district's (and Arizona's) first electric school bus.
When the bond passed and the district secured a matching federal grant, Cartwright was able to finance the purchase. This bus is just the beginning; the $60 million school bond will also support building and infrastructure upgrades.
Chispa's Federal Leadership
And it's not just at the local and state levels where we are making progress.
Chispa and LCV have been intensifying the pressure on members of Congress to invest in the transition to zero-emission, healthy school buses. This switch would improve the health and education outcomes for the over 25 million kids who take school buses to and from school each day, as well as the communities these heavily polluting diesel buses drive through every day.
Over the last few months, Chispa, LCV, and LCV affiliates in the Conservation Voter Movement, as well as the Alliance for Electric School Buses, a national coalition convened by Chispa, have been working to educate the public, increase the momentum toward an entirely zero-emission school bus fleet, and get community members to put pressure on their elected officials, from school boards to Congress, to secure additional funding for electric school buses.
In October, we partnered up with the Electrification Coalition, Plug in America, andthe Department of Transportation and the U.S. Senate Auto Caucus to showcase the latest light-, medium-, and heavy-duty vehicles (including electric school buses!) and EV charging infrastructure. Manufacturers, advocates, and key stakeholders were on hand to discuss the many advantages of this exciting new technology, such as cost savings on fuel and maintenance, reduced reliance on oil, improved air quality and public health, and reduced greenhouse gas emissions. All this information and technology was being explored by members of Congress, the Department of Transportation, and staff. Check out pictures of our event here and here!
You can also watch our Clean School Bus Chats with Rep. Jahana Hayes (CT-05), Rep. Tony Cárdenas (CA-29), and Sen. Cortez-Masto (NV), and learn more about Sen. Alex Padilla (CA) and Georgia Sen. Reverend Raphael Warnock's support for electric school buses.
We have been working with electric school bus partners to turn up the heat on Congress and ensure that the Build Back Better Act delivers on the clean energy, healthy future our kids deserve. Ultimately, we need an investment of $25 billion dollars in funding to help accelerate the transition of half the national fleet to clean rides to school for our children.
Chispa's Next Efforts
We are at a critical moment in the federal fight to fund electric school buses: the Infrastructure Investment and Jobs Act, which was signed into law by President Biden on November 15, 2021, provides $2.5 billion dollars in funding for districts to make the switch to electric school buses. While this is a good start, this is just a drop in the bucket of what is needed to fully electrify school buses across the country.
Other critical investments are waiting on Congressional action. As of now, the House has passed the Build Back Better Act, and we are waiting for Senate negotiations in hopes for it to be passed by March 1, 2022 and consequently signed by president Biden. This is a critical time for low income communities and people of color. We must continue to urge Congress to #BuildBackBetter now because our communities cannot wait any longer.
Join Chispa's Efforts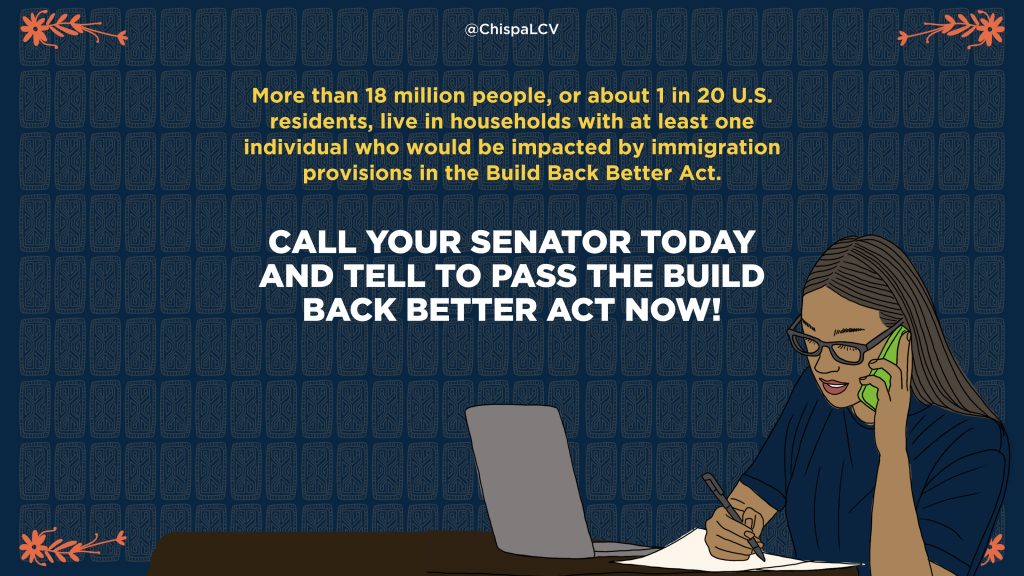 This is just the beginning of what was once just thought five years ago. Together as a community, we can do so much more with accountability to leaders and #CommunityPower to provide a more promising future for not just younger generations, but for all! To stay up to date, sign up to our email list for news and updates and help us #BuildBackBetter by building a pathway to #CleanRides4kids by signing this petition demanding Congress take climate action NOW.